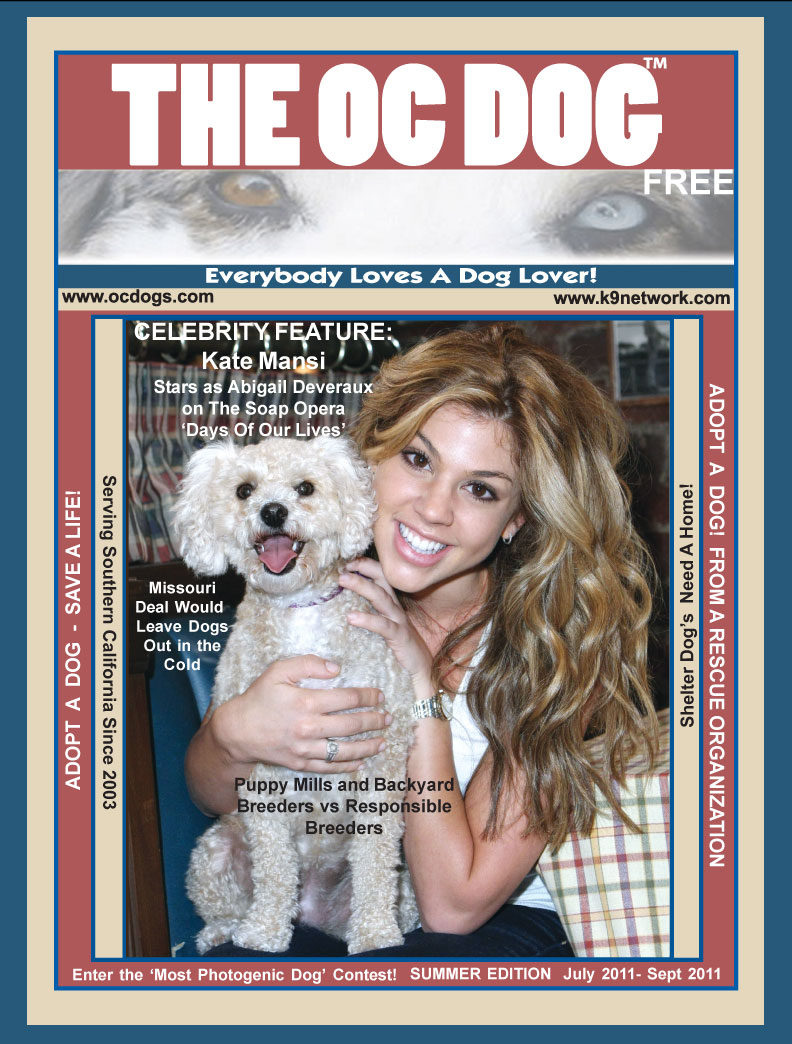 Abby is the eldest child of supercouple Jack Deveraux and Jennifer Horton, Abby is born in the Horton cabin, with her own father delivering her. While her parents' car went off the road, her mother Jennifer went into labor. She appeared on the show for much of her life but left in 2008 only to return on March 2, 2011, played by Kate Mansi. Abby is instantly attracted to Chad Peterson Woods, who she learns is Stefano DiMera's son, and realizes she should keep her distance. Chad comforts Abby when she learns that her mother is divorcing her dad and realizes that she misjudged him and the two have recently begun a relationship.
Kate Mansi grew up in Southern California as the middle child of a large Italian/Irish family. Kate trained as a dancer from a very young age winning several scholarships and sponsorships over the years, both in NY and LA. She joined the Pacific Festival Ballet at just 15 years of age where she was proud to be a principal dancer in performances such as the Nutcracker, Bambi, Peter Pan, and the contemporary ballet Heaven and Hell. While in High School Kate developed an interest in acting which was nurtured by her drama teacher, Bill Garrett, who cast her in her first theatrical production as the lead in "The Mouse that Roared". Kate went on to study film and public relations at Pepperdine University in Malibu.
As a sophomore she placed second in the National Womack Speech competition and in her senior year she traveled to the Dominican Republic and Haiti to volunteer with Orphanage Outreach. After graduating with a Bachelor of Arts degree from Pepperdine Kate focused solely on her acting career and appeared on several TV shows including "How I Met Your Mother" and also could be seen in several national commercials and print ads. In her free time she enjoys dancing, yoga, horse back riding and being with her beloved pup Leighla May. Kate is thrilled to be joining the Days family! www.days45online.com Executive Producer Ken Corday is resetting "Days of our Lives" with the simple yet successful formula of centering the show around romance and the characters fans know and love. "It's time to make a more positive, romantic, and intriguing show driven by the power of heroic love. I'm very excited about the new adventure we are about to take which is based on the show that my parents created 45 years ago." Kate Mansi and her Bichon Leighla May Dogs have always been very important members of my family. I remember my very first dog (pure bred boxer named Murphy- our Irish last name) was my partner in crime. I learned everything from that dog including discipline from my father in caring for a pet! His favorite line was, "animals always walk and eat before we do." It was also important to my family that we give our dogs special names that suited their personalities or meant something. Our next two dogs were named perfectly to their personalities : Rebel (my sister's white labrador) and Annie the annialator (my black labrador that destroyed everything in it's sight for the sake of play). Annie is now 13 years old and as precious as ever! She likes to go to the cabin with us on hiking/snow trips and manages to keep up in her old age which is astonishing! When I graduated from high school and got my first apartment I was devastated to learn that I could only have a dog of 10-15lbs in my lease agreement -and to top it off my roomie was allergic! ... so Annie had to stay with Dad. However, that is when I got Leighla May! It was my sophmore year of college at Pepperdine University and I was feeling such a loneliness not having my dogs at home with me every day. One day my Italian class was ironically canceled so I roamed around in Malibu until I found a pet store to get my "dog fix." It became a regular hobby of mine to go to pet stores and play with the pups there for a while (they all knew my name because I came in at least once a week for that year). It had been on my mind for a while to get a pup but I had never been one for "small dogs" and 10-15 lbs was a big change from my labs! Sure enough, I found this little ball of fluff tearing apart her toy and it was love at first sight. I took Leighla May home that day because I couldn't bear to leave her.... I knew it was fate. She changed my world! Came with me everywhere and I finally felt whole again- which is such a true testament to how therapeutic dogs can be for us all in difficult times! Leighla May quickly became a popular addition to my Italian class and around campus. She has the personality of a big dog which is why I was so taken with her immediately. My family loves her and I swear my father thinks he is the dog whisperer when he teaches her all these crazy tricks! We also have Tyson (akita), who is unfortunately not good around people because he was badly abused before and is very skiddish as a result. I have always wanted to be involved in animal volunteer work and charitable organizations but have not yet found one to tie myself to if anyone has any ideas! My family and I are involved with ASPCA and every now and then still make trips to the dog park with my camera and spend an afternoon there just playing in puppy heaven!

Leave a Reply