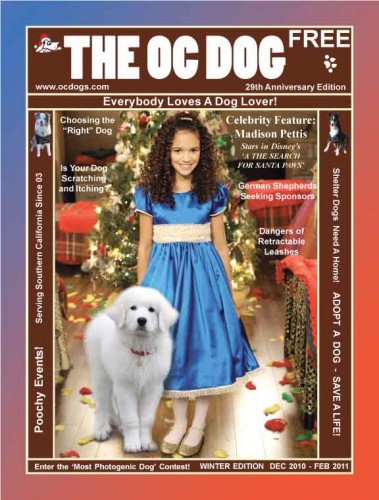 Twelve-year-old Madison Pettis has been making her mark in both television and film since the age of 6. She began her career in her home state of Texas, where she made her first appearances on the PBS television series, "Barney & Friends", along with many commercials. At age 7, Madison and her mother made the trip to Los Angeles for her first pilot season. Within a few weeks of arriving in L.A., Madison booked a guest-star role on the pilot for "Jericho", starring Skeet Ulrich and directed by Jon Turteltaub.
That same pilot season, Madison had her very first feature film audition, for Disney's "The Game Plan". Madison went through a long callback process before landing the role to play Dwayne "The Rock" Johnson's long-lost daughter, Peyton. "The Game Plan" scored box office success by landing the #1 spot for two weeks in a row, earning $144 million worldwide.
During that same pilot season, Madison became the youngest Disney Channel star, playing the role of "Sophie", the President's daughter, on "Cory in the House." In a crossover episode between the two shows,
Madison also guest-starred on the hit show, "Hannah Montana".
Since then, Madison has worked with some of the biggest names in the business, including Will Smith, whom she worked with on "Seven Pounds".
She also starred in "A Muppets Christmas: Letters to Santa" where she played Jane Krakowski's daughter. Madison also played the younger sister to High School Musical's Corbin Bleu in "Free Style". She also starred in "Mostly Ghostly", based on the popular "Goosebumps" series of books by R.L. Stine.
Madison has expanded her talents to include animation voiceover work. She has recurring roles on Disney Channel's hit shows "Phineas & Ferb" and "Special Agent Oso". Set to premiere in early 2011, Madison will voice the role of "Izzy", the only girl pirate on Disney Channel's new series, "Jake and the Never Land Pirates", as well as the voice of George Lopez's "puppy daughter" named "Lala" in "Beverly Hills Chihuahua 2" Madison plays "Willamina", an orphan who helps reunite Santa Claus with his lost dog just in time to save Christmas.
Kaitlyn Maher is only six years old, but has already endeared herself to millions across America and around the world.  When she was only four years old, her pure voice, cute smile, and infectious personality propelled her over hundreds of thousands of contestants to become the youngest person ever to make it as a Top 10 Finalist on NBC's hit show, America's Got Talent.
Kaitlyn also debuted in her first Disney role – as the cute little puppy named "Tiny" — in the movie Santa Buddies, which released as the #1 DVD in America back in November 2009. In addition, Kaitlyn was selected by Disney to be the lead actress in an upcoming movie, The Search for Santa Paws, currently scheduled for release November 2010.  Kaitlyn was also selected for a voiceover role in another upcoming movie, "Treasure Buddies", scheduled for release in 2011..

Leave a Reply